Jacobite Cream Teas
Allow me to set the scene if you will. You are sitting in the comfort of your beautifully upholstered seat, in a carefully restored Mark I or Mark II first class carriage. Ahead, your vintage steam engine takes you on the greatest railway journey in the world between Fort William and Mallaig in Scotland; surely it doesn't get better? Then along comes your delicious Jacobite Cream Tea.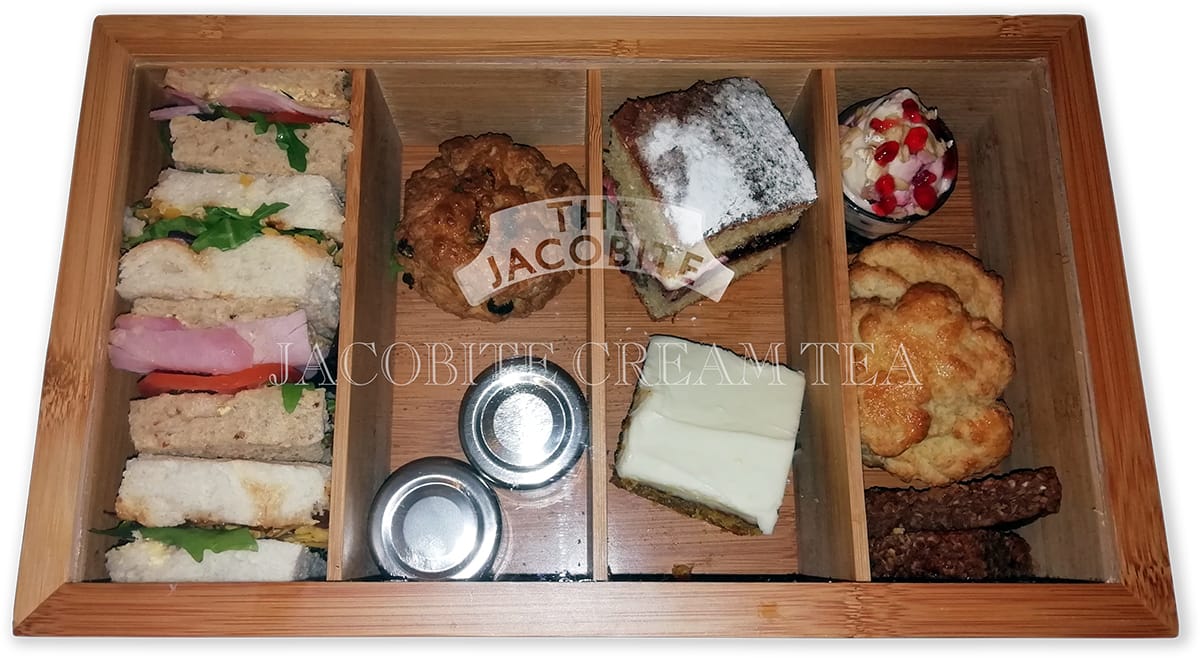 Whether you have booked your place on this most historic journey or are still to do so, why not add the final touch?
Please note: The Jacobite Cream Teas are only available to pre order and only to passengers travelling in the main first class carriage A. The Cream Teas are generally served around Glenfinnan on the Outward journey from Fort William on the morning trip and the afternoon trip.
Cream Tea Details
Chunky, freshly prepared sandwiches made with locally sourced Mull Cheddar Ploughman's, Free-range Egg Mayonnaise with Rocket and Heather Honey and Arran Mustard Glazed Ham Salad - all on white and brown bloomer bread (the standard pack includes a mixture of white and brown bread, we do also offer all white or all brown bread by request).
Delightful savoury and sweet scone, served with Scottish artisan strawberry preserve, Scottish butter and clotted cream.
Followed by a selection of mouth watering homemade cakes.
Coffee or Tea.
Sandwiches in the Vegetarian version would be replaced with: Mull Cheddar Ploughman's, Free Range Egg Mayo and Rocket and a Roasted Vegetable and Mozzarella sandwich.
For the Vegan version the sandwiches would be replaced with: Roasted Vegetable Sandwich, Red Pepper Hummus, Avocado and Cucumber sandwich, and a Ploughman's with Vegan Hard Cheese, Pickle and Salad.
Please note that we cannot offer a gluten free or vegan option unless 7 days notice is given. Please e-mail us with your booking reference at least 7 days in advance of your travel date to request a gluten free or vegan option.
Please note Jacobite Cream Tea may contain or have traces of nuts and nut oils or may have been made alongside other products containing nuts.
Contents may be subject to change at short notice as some ingredients are seasonal.
Please note that during the pandemic we are supplying the cream teas in disposable packaging and any drinks will be in disposable cups. These measures might change without notice, but are in place for the safety of our passengers and staff during the Covid-19 pandemic.
£19.95 each
How to add these to your trip?
Special extras can be added during the online booking process. You can also call 03339 966 720 to add gifts on to an existing booking. Please be aware that we do require at least 7 working days notice to provide Jacobite Cream Teas.