Standard Class Seating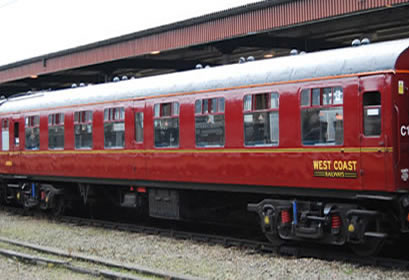 Example of Mark I carriages.
All our Standard Class passengers will travel in refurbished Mark I or Mark II coaches and will have access to a buffet for the purchase of teas, coffees and light refreshments. In addition all standard class seats are in roomy coaches with all seats at tables which offer splendid views through large picture windows.
Our standard class carriages, of a traditional British Rail design with seating being around tables of four seats. One or two toilets are usually available in all carriages.
These traditional carriages provide a more comfortable ride quality than the modern trains that are used by today's railway companies (owing to the lack of motors and engines underneath each carriage which are found on modern diesel trains).
If you have preferential or specific requirements regarding seating please make us aware when booking or discuss it with us prior to booking.
An example of a typical standard class carriage. While we will endeavour to meet any requests this will be dependent upon availability.
Please Note: That trips using 'Service Train' the carriages will not be vintage carriages, but modern ones subject to the service providers.