Premier Dining Class Seating
Example of Premier Dining carriages.
Includes all the luxuries of First Class, with inclusive gourmet meal(s) prepared by our on board chefs.
Meals are provided to a set menu and will feature a full Breakfast in the morning and full four course dinner on the return.
Seats are generally arranged in tables of four with some limited tables for two being available for a supplement to the advertised fare.
All food is prepared by experienced on board chefs and served to your seat as you relax and travel in style.
The example dining menus can be viewed by clicking the link in each of our trip pages.
A vegetarian option is available and we ask that this be requested at least 7 days before the date of your tour.
In line with common restaurant practice passengers in Premier Dining are kindly asked not to consume their own alcoholic drinks.
We regret that we are unable to offer any special dietary requirements such as wheat or gluten free food.
Please do ensure if you wish to book Premier Dining Class that it is available on your desired trip. Not all tours feature Premier Dining.
All our Premier Dining Class passengers will travel in refurbished Mark I or Mark II coaches. In addition all Premier Dining Class seats are in roomy coaches with all seats at tables which offer splendid views through large picture windows.
Our Premier Dining Class seating is either on a table of four, or a table of two.
Guaranteed Table for two – If you are travelling Premier Dining Class but would like the additional privacy and a guaranteed window seat, there are a limited number of smaller tables for two – rather than the normal table for four – available on most of our trains. This would allow you to sit opposite each other around a table for that more personal experience.
There is an additional £20 supplement per person (unless otherwise stated) for this option which should be added to the relevant section on the booking form.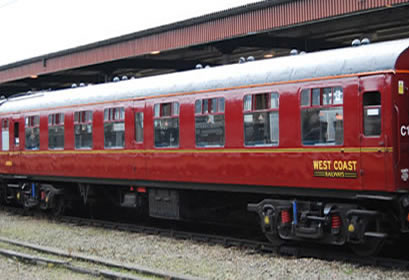 Example of Mark I carriages.