First Class Seating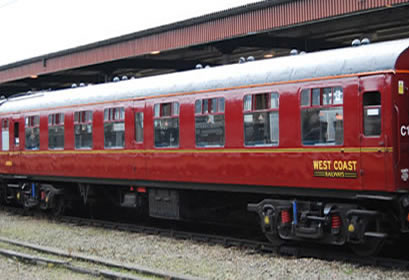 Example of Mark I carriages.
All our First Class passengers will travel in refurbished Mark I or Mark II coaches and will have access to a buffet for the purchase of teas, coffees and light refreshments. In addition all First class seats are in roomy coaches with all seats at tables which offer splendid views through large picture windows.
Most of our trains convey First Class carriages and will be available as advertised. For a "bit extra" our First Class carriages offer more comfortable seats – wider than those in standard class (with only six seats across, whereas standard class has eight) with more leg room, with tables, curtains, and often with personal roof lights or table lamps, in a more relaxing and tranquil environment.
Our First Class seating is either on a table of four, or a table of two.
Guaranteed Table for two – If you are travelling First class but would like the additional privacy and a guaranteed window seat, there are a limited number of smaller tables for two – rather than the normal table for four – available on most of our trains. This would allow you to sit opposite each other around a table for that more personal experience.
There is an additional £20 supplement per person (unless otherwise stated) for this option which should be added to the relevant section on the booking form.