The Pendle Dalesman - Steam along the S&C - Running Tuesdays (Steam both outbound and return)
Running Tuesdays on 14th June, 12th July, 2nd and 23rd August, 27th September.
Departing from Lancaster, Preston, Blackburn and Clitheroe
Join us for a great day out to remember aboard our heritage steam hauled train which will take you on a scenic journey along the Settle and Carlisle line.
From the comfort of your seat in some of the oldest working carriages in operation today, your adventure begins! Some of these carriages served throughout the golden age of rail, some featured in the Harry Potter movies and have all been lovingly restored. These traditional carriages will be hauled by a beautifully restored steam locomotive from your departure points. At Hellifield the line traverses North Yorkshire for an ever-favourite journey on the Settle and Carlisle Railway. Enjoy the stunning Dales scenery as we make our way through Settle and over the famous Ribblehead Viaduct. Continuing north from Ribblehead we plunge into Blea Moor tunnel, the longest on the line. We then enjoy sweeping views along Dentdale as we pass through the highest station on the line, Dent. The stunning scenery continues as we head north to the more gentle landscape of the Eden Valley, the Eden Gorge and our destination - the border city of Carlisle.
See www.settle-carlisle.co.uk.
CARLISLE: We anticipate an afternoon arrival time offering a couple of hours or so break. This great border city dominates the borderlands between England and Scotland, sitting within the vale between the Cumbrian Mountains and Scottish Southern Uplands. In Carlisle you'll find yourself at the centre of a stirring past and a vibrant present. Many of the city's eateries and licensed premises are just a few minutes' walk from the station entrance and if you visit www.historic-carlisle.org.uk you will find information to help you plan ahead. And for those who would prefer to use their short break to wander around in the beautiful and historic heart of the city you may choose to visit the castle, cathedral or indeed the Tullie House Museum.
After a break of around two hours in Carlisle, we return along the Settle to Carlisle line behind our vintage steam engine for the final part of our journey to your home stations.
In the event of fire risk, FBU action or the unlikely failure of steam traction we reserve the right to substitute all or part of the journey with a heritage diesel without any liability being incurred and any reimbursement or vouchers issued.
THE SETTLE TO CARLISLE LINE
First opening to passengers in 1876, the Settle - Carlisle line takes in 20 viaducts, 14 tunnels and countless beautiful vistas along its 72 mile track. This historic line travels across the stunning Pennine hills, showcasing the English countryside at its best.
From Hellifield one of the oldest steam engines in service today is a sight to behold as the engine builds up sufficient steam for the highlight of your journey on the famous Settle to Carlisle line.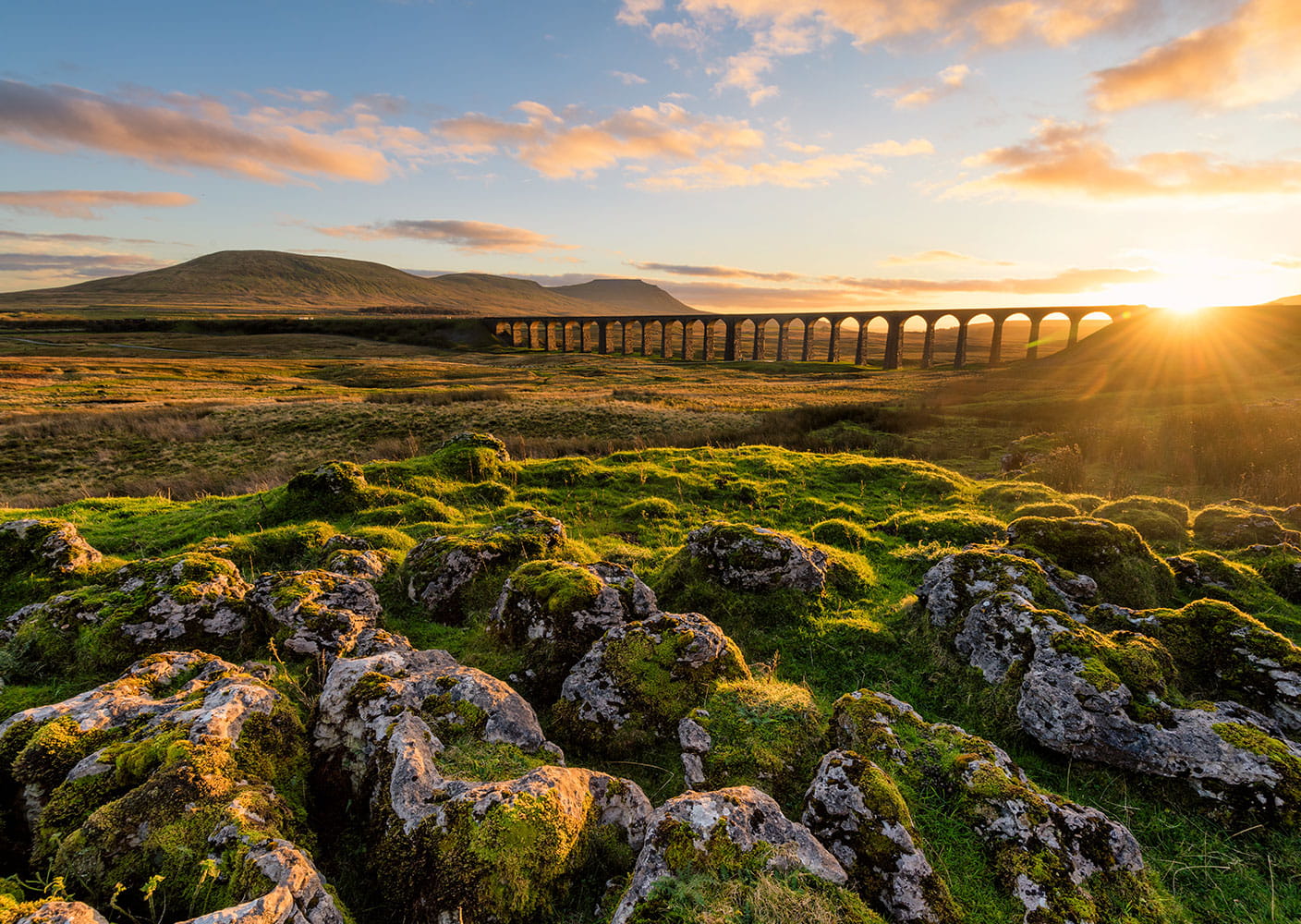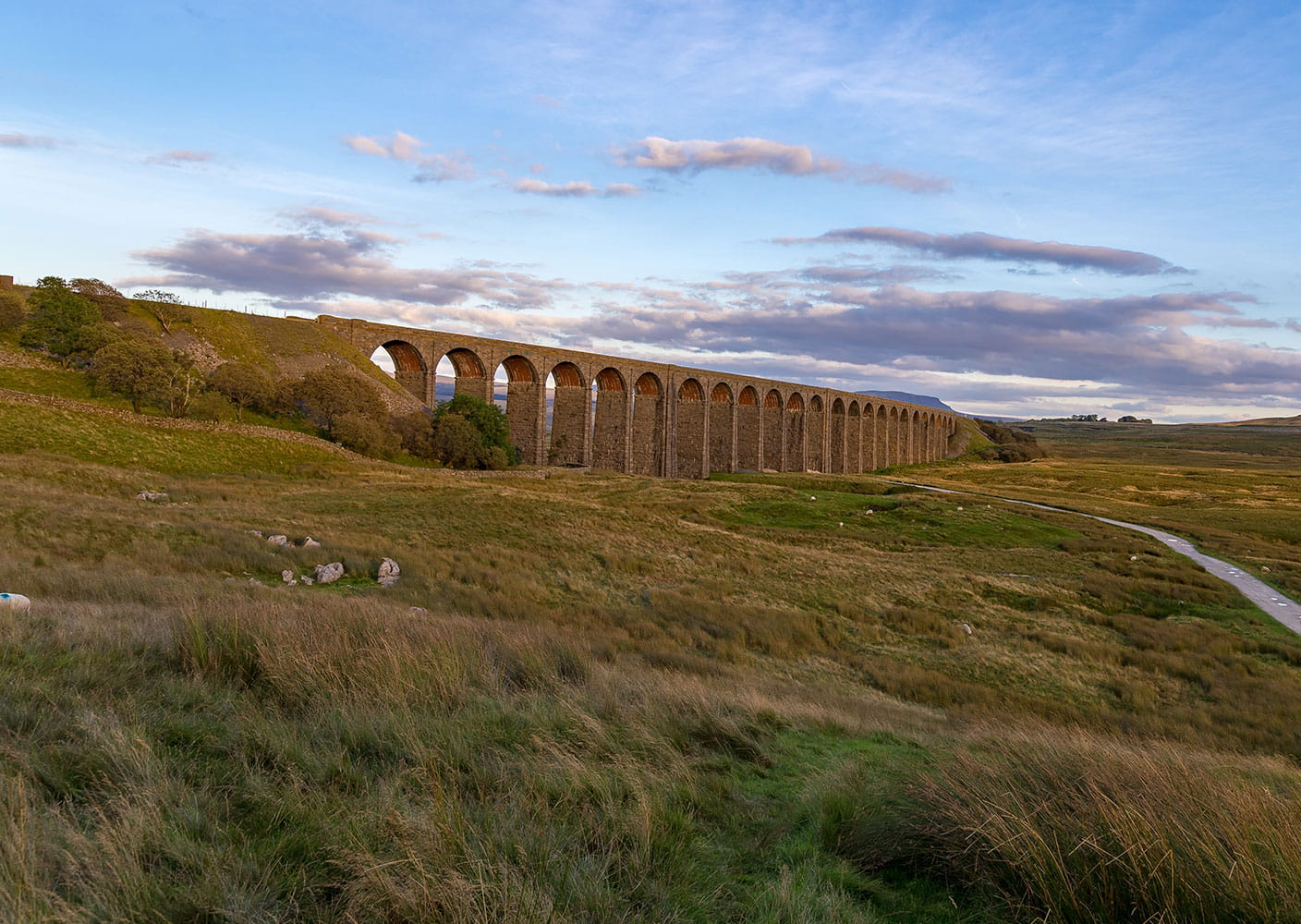 SETTLE STATION
The station first opened in May 1876 and was originally named 'Settle New' to distinguish it from the nearby station on a different route, and has a beautiful large Derby Gothic style station building.
RIBBLEHEAD VIADUCT
The Ribblehead Viaduct is an impressive feat of engineering 28 miles north-west of Skipton in Yorkshire. The Grade II listed structure, designed by engineer John Sydney Crossley. 1.5 million bricks were used in its construction, with some of the blocks weighing 8 tons each.
DENT STATION
The highest mainline railway station in England. In the past steam locomotives were able to pick up water from troughs here whilst still moving.

DENT HEAD & ARTEN GILL VIADUCTS
Two of the most impressive structures on the line, they are are Scheduled Ancient Monuments. Arten Gill Viaduct is constructed from 'Dent marble' - a dark limestone with high fossil content, and has eleven impressive arches.
BLEA MOOR TUNNEL
Located between Ribblehead Viaduct and Dent station, it is the longest tunnel on the line. Rise Hill Tunnel. Built by the Midland Railway, it passes 500 feet below the moor after which it was named.
CARLISLE
The Scotland/England border city, the Romans established a settlement here to service the forts of Hadrian's Wall. Carlisle castle has watched over the city for over 9 centuries, and has witnessed many important moments in British history.
Fares


Premier Dining
Premier First Class
First Class
Standard Class
Adult
£298
£195

£165
£85
Child
£210
£120
£82
£42
Premier Dining: On the outward journey passengers will be served a full English breakfast with complimentary Buck´s Fizz. Champagne and canapés followed by a delicious four course dinner accompanied by a quarter bottle of wine, will be served on the return journey. A complimentary service of tea or coffee on both journeys. We kindly ask that passengers do not consume their own alcoholic drinks in Premier Dining Class.
We are able to offer a vegetarian menu with 7 days advance notification but regretfully we are unable to offer any other special dietary requirements (i.e. nut allergy, vegan, gluten free diets etc).
Premier First Class: Passengers will be served a breakfast roll on the outward leg and freshly made sandwiches, a scone, jam and butter will be served on the return journey. To accompany this, there will be a complimentary service of tea and coffee on both journeys.
Standard & First Class: First Class passengers will have access to the buffet carriage for the purchase of light refreshments. You are also welcome to bring your own refreshments or indeed a tasty picnic to enjoy as the countryside passes by!
A child ticket is for a child aged 16 or under.
Supplement for a private table for two in first class and dining £25.00 per passenger. Fares are subject to a £3.75 booking fee.
For children in Premier Dining the wine will be substituted for soft drinks.